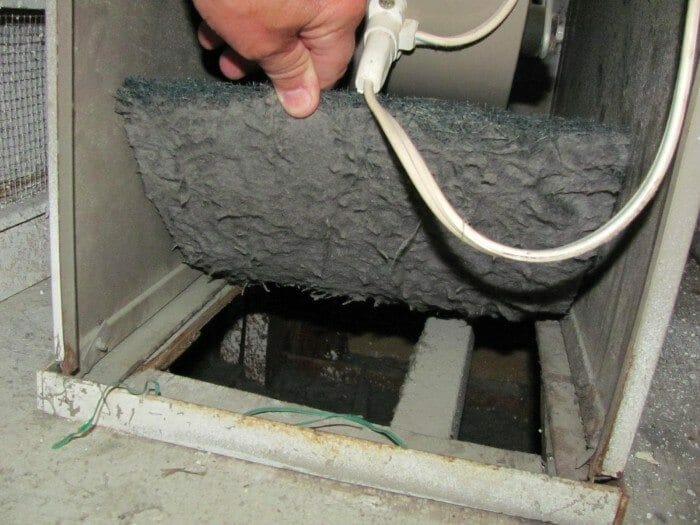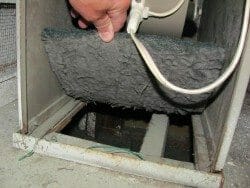 Furnaces with dirty filters may not heat properly and may occasionally cause the unit to shut off. Another concern is that there may be a build-up of dust, dirt or other materials on the heat exchanger or coils which is not good for the furnace.
Good air-quality
Keeping a clean filter in your unit helps provide cleaner air, reduces dust build-up and helps keep pet hairs from circulating through the home.
Missing air filter
Should an air filter be missing then adding one should be high on your maintenance list. At times the clips or wires which holds the filter in place get bent or damaged, resulting in the filter floating upward when the unit is on and much of the air circulates around the filter instead of through it.
About every 30 days
Many manufactures recommend that your filter be changed about every 30 days. Doing so will not only help keep the air cleaner, it will usually extend the life of the furnace and increase the efficiency.
Service the furnace and A/C once a year
Proper care of your furnace will extend the life of your unit. Like a car, if you take good care of it, it will last a long time. Therefore, have your furnace and A/C serviced and reviewed once a year and change filters once a month.
Tip  – Write the date on the edge of the filter so that you can see it. This will help remind you about how well you're doing.
Who to consult? HVAC technicians and handymen.
Home owners usually change their own filters or put in missing ones. HVAC contractors and handymen likewise can easily do this work.
---