When it is not possible to drain a condensate line by gravity into a drain, a condensate pump is often used. In older homes that did not have air-conditioning, but later had it added, a condensate pump is often used. They are often located next to the furnace unit where the A/C coils are, and have a small diameter plastic hose attached.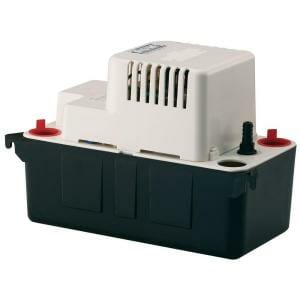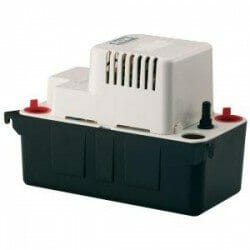 Maintenance
Overtime, small mechanical devices will need maintenance, wear out or stop operating.
Cleaning: once a year, generally prior to the summer's hot weather, a cleaning and check of the condensate pump and discharge line is suggested. These pumps have a small reservoir and often a float overflow. Cleaning off any slim will help to extend the life.
Also, if it is not working, check to see if it is plugged in and that the outlet is working. It sounds silly, but it does happen.
Stains around the pump area
Check to see if the pump is working. If it isn't, the small reservoir will over-flow. Look for a crack in the reservoir and check to see if the hose connection fittings are tight.
Older pumps
Older pumps may need replacing. If so, they are inexpensive and easy to replace.
Who to consult? HVAC technician or qualified handyman.
Home owners can do maintenance on their condensate pump easily. Air-conditioning technician or handyman can easily do this work as well.