Overly wet soils are typically the result of too much rain, poor drainage or the sprinkler timers being set for too many minutes; occasionally there may be a water pipe leak or a sewer leak. Discovering the cause or finding a leak can often be done by the homeowner, but occasionally help is needed.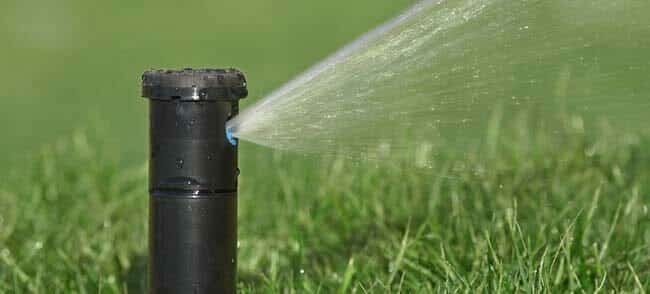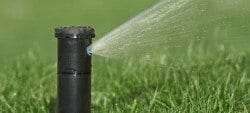 Sprinklers
Check the sprinkler timers to see if they are set to run too long. Try shortening the run period for the sprinklers or change the number of days a week that they go on. Also, some areas may be getting double coverage from two or more heads; review the gallons per minute the heads are rated for or volume of water the heads put out. You may need to use a lower flow head.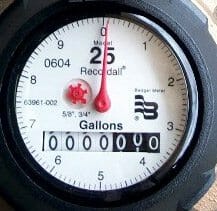 Leaky water pipe
Occasionally a pipe may be cracked or leaking. At times you can hear it leaking (go over to where the valve is and listen) or you may see soil erosion where the leak is pushing the soil away. Unfortunately, sometimes there is no visible evidence.
Water meter test:
Plumbers or homeowners will sometimes shut down all items in a home that have water running to them. They then go to the main meter and listen for water flowing or watch to see if the meter is registering any water flow. Look at the numbers and often there is a little triangle shape spinning, which tells you that water is flowing through the meter. If so, there may be a leak somewhere.
Sewer line damaged and leaking
Occasionally a sewer pipe may be cracked and leaking. A small crack may leak very little water; a larger crack or damaged pipe may leak a significant amount of fluid. There may be a mild noticeable sewer type odor present and the soil may appear to have dropped down a little. Should there be a sewer leak and it is near the homes' foundation, there may be damage to the foundation itself. If a sewer leak is suspected, then having the sewer line videoed can help determine if it is the sewer line causing the sogginess.  (Read about videoing sewer lines)
Soggy soil near a pool or spa
Is there a pool or spa leak that is causing the soil to be soggy? Pools and spas develop leaks from time to time and there are various ways to find the leaks depending where thy're at. One test that is easy for a homeowner to do and it doesn't cost a penny is whats called a "Bucket Test".
Manageable
The majority of the time, it is the sprinkler system that is causing the sogginess. Landscapers, plumbers and handy men normally will easily correct this type of problem. Occasionally it may be necessary to consult with a leak detection company.
Who to consult? Landscapers and gardeners are the most commonly consulted.
Homeowners will generally check their sprinkler timers to see if they are set for too long a period of time. If so, they shorten the cycle time. Gardner's and landscapers are usually skilled at handling these issues. If there is a plumbing leak, then handymen and plumbers will often locate and fix the leak.