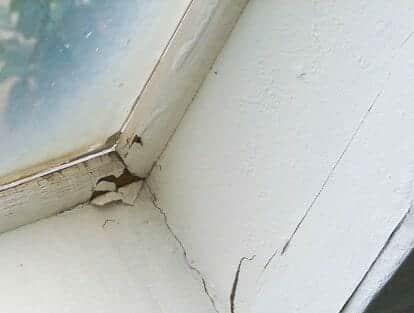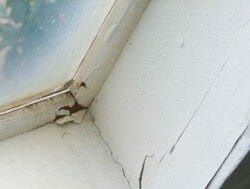 If a skylight is leaking between the glass and the frame, then caulking the area will usually solve the problem. It is not unusual for the seal to slowly deteriorate over the years and need to be resealed or caulked. A second source of leaking may be from the skylights' flashing. ( READ MORE ABOUT SKYLIGHT FLASHING )
Caulk
Use a high grade caulking for this. A marine grade of caulking is one of the best choices for caulking and is usually very reliable. Another choice may be silicone caulk that is marked or labeled as "waterproof."
Cracked skylights
Another source of leaks come from skylights that have cracked. This may be the result of storm damage or age. Depending on the seriousness of the crack, there are two basic choices. Repair the crack or replace the skylight lens or glass. Acrylic glazed skylights tend to develop cracks over time, however, the newer ones perform much better than the older ones.
Not all stains are from the skylight leaking
Interior humidity from cooking, bathroom showers and poorly ventilated houses may allow condensate to buildup on skylights, then stains may occur on the skylight or area. Adding fans in the bathrooms, vents over the stoves that vent to the exterior and other forms of ventilation usually helps with this. ( READ MORE ABOUT OTHER SOURCES )
Who to consult? Roofers and skylight installers or skylight companies.
Cleaning, general maintenance and caulking is often handled by home owners and handymen. Repairs or replacement is generally done by roofers and skylight installers.
---