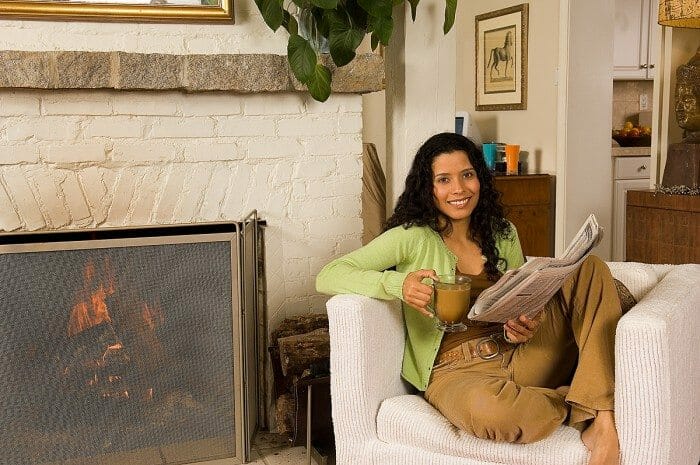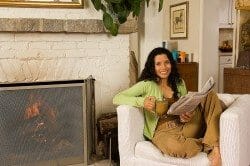 Masonry fireplaces and manufactured or "zero clearance", fireplaces are the two most commonly found fireplaces in our homes today.
Yes, there are other types of fireplaces, such as, fireplaces that burn gelled-alcohol fueled. These type of fireplaces are generally considered to be more clean burning and have less toxic fumes. Most of them in the combustion process give off carbon dioxide, which is similar to human beings breath, versus carbon monoxide, which is an odorless poisonous gas.
Masonry fireplaces are generally built out of brick, concrete or stone. Inside of the chimney area there are generally 2 foot sections of clay pipe lining the chimney.
These masonry fireplaces are sometimes very massive and can be tremendously heavy. Generally they're beautiful, add charm to a home, and last for many, many, years. Literally a lifetime. Masonry fireplaces are normally built on their own concrete foundation, but connected to the home.
Avoid water puddling next to the chimney base
Special attention should be paid that no water puddles or ponds in the foundation area of the fireplace, that it drains away from the foundation of the fireplace. It is not uncommon to see downspouts from gutters discharging near the fireplace foundation. When this is a case, it would be wise to extend the end of the downspout out several feet, so that water does not get dumped right next to the fireplace foundation.
Normally general maintenance and care will preserve the fireplace for the life of the home. It helps to have a spark arrester and rain cap on the top of the chimney to help keep water from coming down into the fireplace and setting or pulling on the smoke shelf.
Manufactured fireplace
Manufactured fireplaces are often called "prefabricated" fireplaces. They are manufactured in a industrial plant and then shipped to the home site, or retail store, and installed by a fireplace installer or contractor. They come in all shapes and sizes and must meet various governmental design requirements.  They're generally faster to install, than to construct a brick or stone fireplace, as well as, more economical.
These fireplaces generally come with glass doors, screens and concrete like refractory panels in them.
Wood burning or gas only
Manufactured fireplaces may be deigned to burn wood or have a gas log set in them. Others, may be gas only. In many areas, builders can no longer build or install fireplaces that have an open front where you can hear the cracking and snapping's sounds or an open firebox area. They must have a gasketed glass door, for energy efficiency and for pollution reduction.
Not always fuel efficient but beautiful
Heating experts generally feel that masonry and manufactured fireplaces that we see in most of the homes today, are not fuel-efficient. However, many people like the atmosphere of a wood burning fireplace or an open fireplace with a gas log set in it. Homeowners often relish the idea of being in front of a fireplace on a cold winter evening, all relaxed and cozy, and listening to the crackling sound of the fire and watching the flames flicker and dance about.
---