Sprinklers Hitting The Home: Correct And Check For Stains On The Interior Wall
Home » Yard, drive, walks, patios » Sprinklers » Sprinklers Hitting The Home: Correct And Check For Stains On The Interior Wall
Last Updated:
May 4, 2021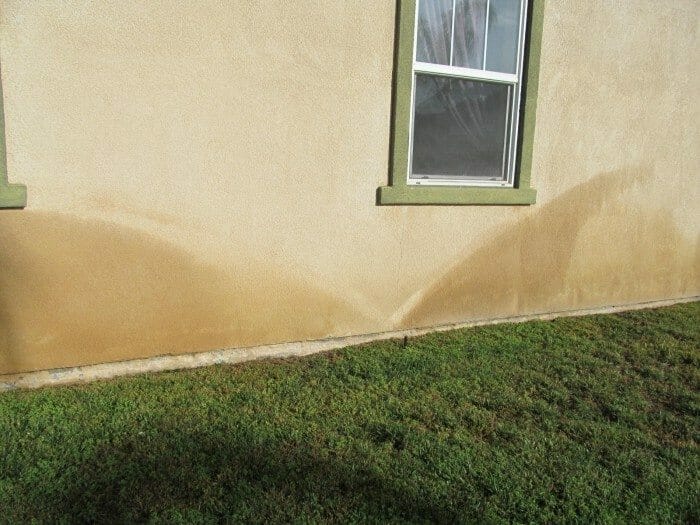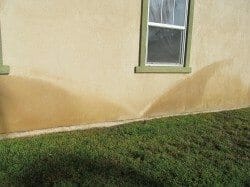 Sprinklers often spray water against the side of a home. Over time this can cause damage to the siding, brick façade, veneer, or stucco of the home. Occasionally mold and mildew may develop or the insulation in the wall gets wet.
First correct and then check
Sprinkler heads should be checked to see if they are pointed the wrong direction or if they have the wrong type of head.
Sprinkler heads are designed to spray various patterns, for example, they may spray a quarter arc, half arc, full circle, square or rectangular shaped pattern. When sprinklers are hitting the side of the house, usually adjusting or replacing the sprinkler heads will solve the problem. For planter areas that hit the home, the sprinkler heads might be replaced with a drip type system to avoid spraying water and hitting the house.
If there is a stained arch on the side of the house or the wall is wet and there are sprinklers nearby, then most likely the sprinklers are spraying the side of the house.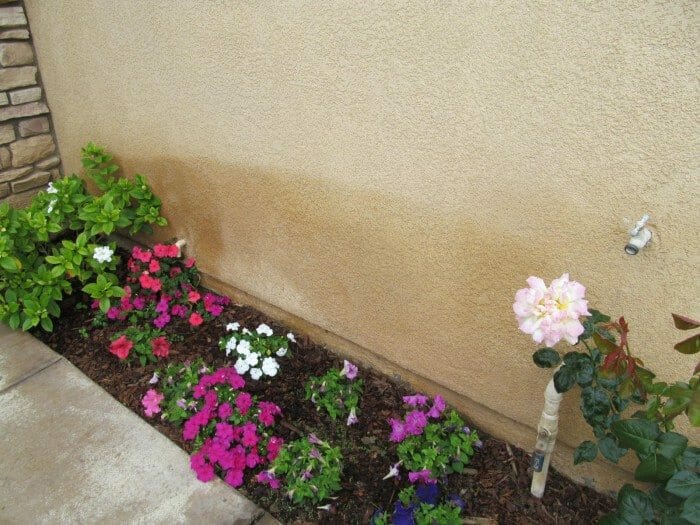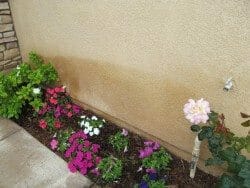 Check the outside wall for damage
When adjusting the sprinkler heads, a check of the walls' condition should also be done. Any damaged wall areas should be repaired which will help prevent future water intrusion. If the damage requires the removal of part of the siding, be sure to check that the moisture barrier behind the siding is not damaged, ripped or tore. If so checking the insulation and for any wood deterioration is wise.
Occasionally if the sprinklers have wetted the wall area over a long period of time and the moisture has penetrated the wall, then mold or mildew may have developed.
Check the inside wall for stains and musty odors
If sprinklers have been hitting the outside wall for a long time and the "house wrap" which is some form of moisture barrier behind the exterior siding is damaged or leaking, then the moisture may have penetrated the wall. Should moisture intrude the wall, the insulation may get wet and there may even be stains on the drywall or baseboards inside the home. If stains, they're usually down near the baseboard area.
Moisture in a wall can result in mold or mildew, as well as wood rot or deterioration. Stains and musty odor are two common symptoms of this. Home inspectors may note this in their inspection reports and a few will have a moisture meter and check for moisture.
Who to consult? Landscaper or gardener.
Home owners generally will correct this themselves. However, should they not wish to this, then handymen, gardeners and landscapers will usually do this work.