If keeping a lush, green lawn is a challenge—or you're just tired of the upkeep—fake grass might be the ideal solution. Artificial grass is low maintenance and can take a beating around water features, pools, and other outdoor elements.
However, synthetic turf also has a few drawbacks. Let's dive into the pros and cons so you can decide whether installing a synthetic lawn is right for you.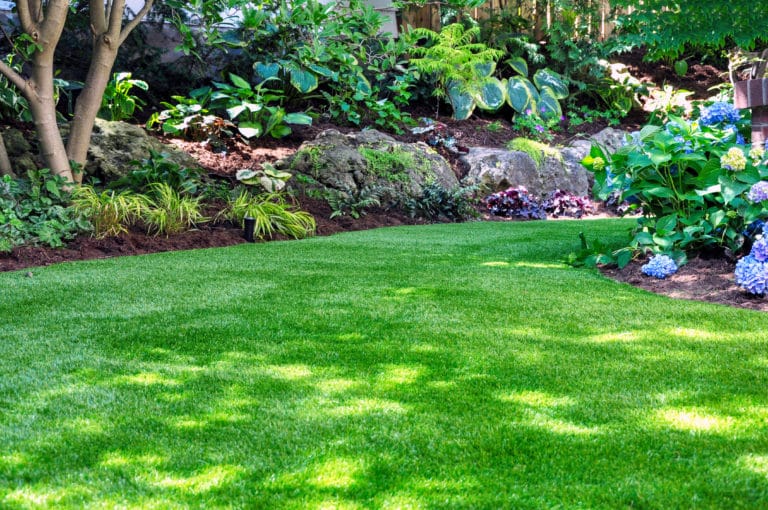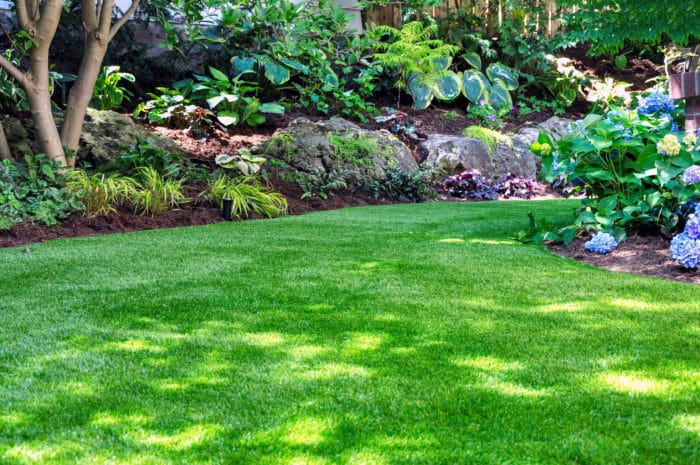 The Benefits of Artificial Grass
There's no denying that having an artificial lawn means you never have to mow again. You also won't have to spring for any fertilizers or pesticides or make sure you water it during the summer. Year-round, artificial turf looks fresh and green and keeps its smooth edges.
You'll find no brown spots, no weeds, and no overgrowth. Other benefits include:
It Saves Water
If you live in a dry climate or an area prone to drought, such as the southwestern United States, an artificial lawn helps you conserve water and save on your monthly water bill. Some municipalities even reimburse homeowners, businesses, HOAs, and multifamily properties for replacing natural grass with "water-efficient landscaping." Los Angeles offers a rebate called Cash for Grass, that aims to reward homeowners for replacing water inefficient grass with drought tolerant landscape or artificial turf.
It's Pet-Friendly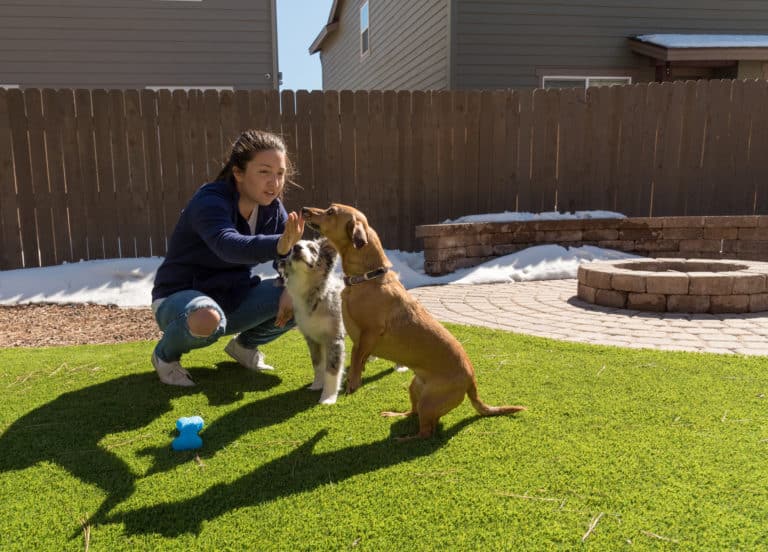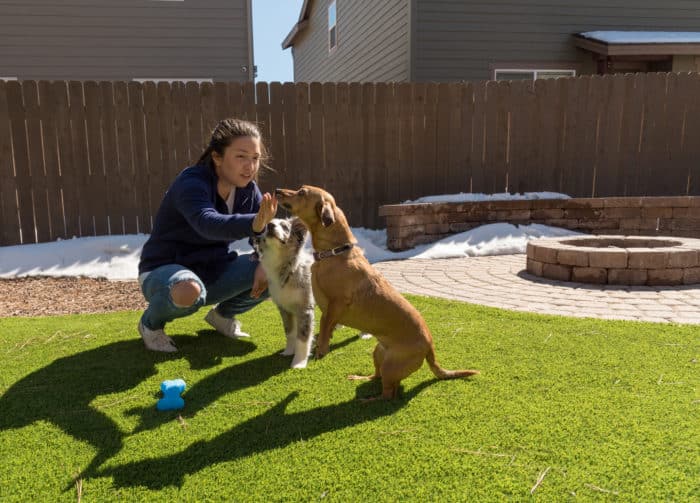 A synthetic lawn can give you a perfect patch of green for your pets to use the bathroom. You'll still want a brand that provides good drainage (some manufacturers design artificial turf specifically for pet owners), but you won't have to scold your pup for tearing up the
grass. Pet urine can be rinsed off with hose on a weekly basis or for more stubborn smells, dishsoap and broom work well to clean the turf. The risk of pests is reduced by having fake grass as well due the fact that its not a natural substance and there is little to no natural decaying matter for pests to hide or burrow in.
It Prevents Flooding
Because it has no root system, fake grass is designed to drain well. In a wet climate, you still might have drainage issues with artificial turf, depending on the type you buy. However, its overall drainage and durability make synthetic grass a good landscaping choice around pools and water features, such as fountains. Artifical grass can be used as a part of a larger functional drainage system to route water out of the area quickly and effectively.
It Inspires Creative Designs
Synthetic turf can be cut exactly to any size and shape—and it'll stay that way. This introduces a world of fun possibilities, not just for the backyard but the side yard, front yard, patio, or even an apartment balcony.
Use artificial grass to create a statement landscape with features such as a sports area where people can play croquet, kids can kick a soccer ball, or you can hone your short game on your own private putting green. Frame a patio seating area with a fire pit and vibrant artificial turf, and the green will soften the hard scape, adding to the space's inviting feel.
Set down square concrete pavers on a synthetic lawn to craft a modern focal point that never needs edging—or use the turf itself as a carpeted walkway to lead to a private spot for yoga, reading, and relaxation.
Craving a garden party in the city? Faux grass on an urban balcony, patio, or rooftop adds a bright pop of color and beckons for a table and chairs to soak up the sun or starry skies.
Some Drawbacks of Fake Grass
Despite all those perks, the grass isn't always greener when you have an artificial lawn. Home and landscaping experts recommend considering a few things before installing synthetic turf.
It's Pricey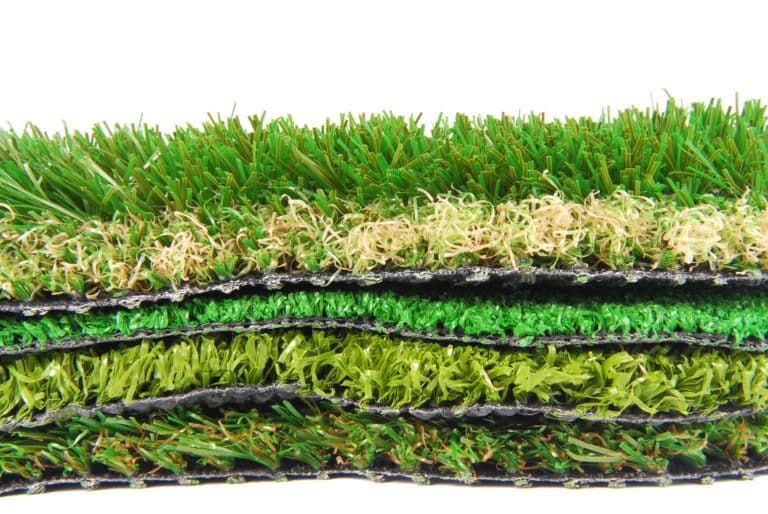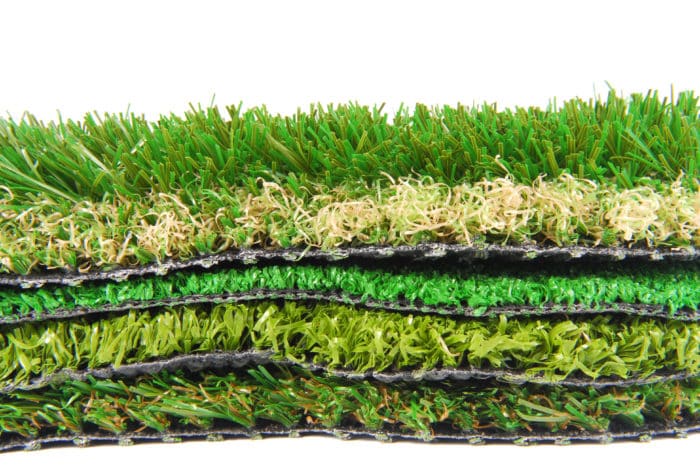 The average cost of installing artificial turf ranges from $5 to $20 per square foot, depending on your yard size and the type of grass you choose. Polyethylene is the least expensive at about $2 to $4 per square foot whereas polypropylene costs about $2 to $6 per square foot, and nylon costs around $5 to $6 or more per square foot.
Compare that to the cost to lay sod—roughly 90 cents to $2 per square foot—, and that's a hefty upfront cost. Experts say that you'd recoup that initial investment in about seven years because you're saving money on annual lawn maintenance.
It's Not a DIY Project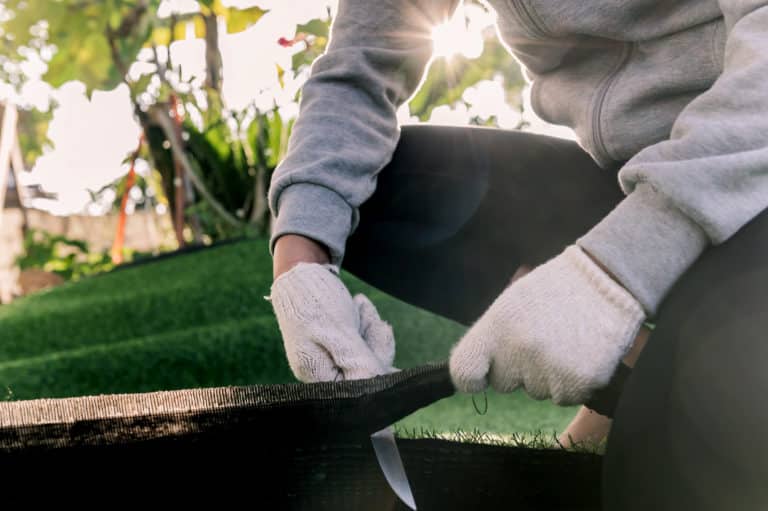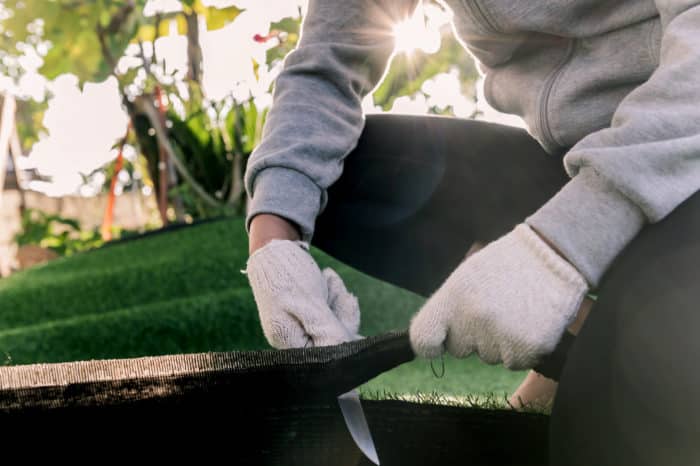 Fake grass comes in rolls, but installation isn't as simple as just unfurling it. Most surfaces need some excavation before installation, clearing the soil and digging out a depth of about 1.5 to 2.5 inches.
Proper installation also includes a weed-control membrane to prevent weeds from popping through the turf. Fake grass also requires a layer of decomposed granite or limestone chippings for proper drainage and water runoff. Hiring a professional ensures your fake
grass looks its best but also adds labor costs. That said, a pro can note if your fake lawn needs specialized materials to prevent bacteria and mold growth, such as around pools, on a stairway, or on a roof.
It Gets Hot
Admittedly, this depends on the quality of the synthetic grass, but a fake lawn does not have the same feel or appeal real grass does as far as running your bare feet through it. It reflects light and can retain heat, making it hot underfoot when you'd rather keep cool. Read the EPA report about the recycled rubber bits in sports fields.
It's Not Environmentally Friendly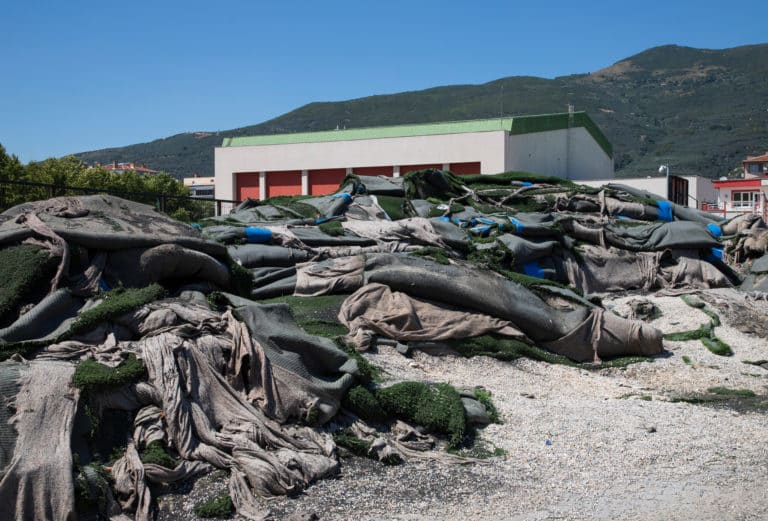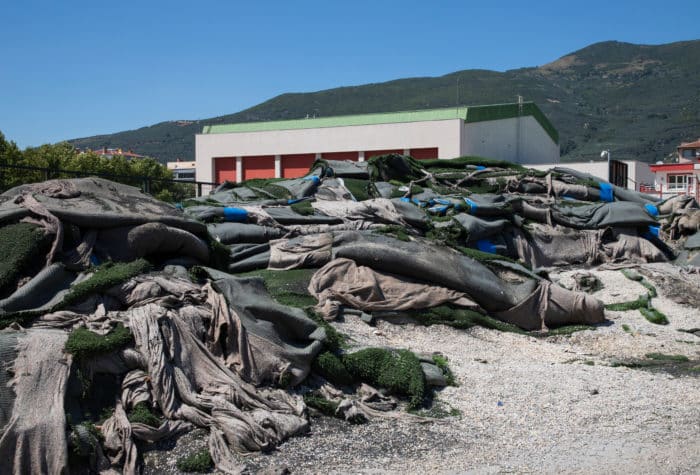 While having an artificial lawn helps conserve water, the plastics involved in making the grass aren't recyclable. What's more, synthetic grass interferes with your lawn's natural ecosystem, preventing beneficial plants from growing and impacting the soil quality.
For those reasons and others, some homeowners' associations don't allow residents to install fake grass. Be sure to check your HOA guidelines for any restrictions.
It's Not Foolproof
Believe it or not, fake grass also needs TLC. Lawn experts recommend raking or brushing artificial turf every few weeks to remove dirt, leaves, and other debris. If you have children or pets, you might want to hit it with a leaf blower or spray it down with a hose each week unless you install sprinklers to keep it fresh.
Synthetic turf also doesn't last forever. Depending on its quality, the climate, and other factors, the fake grass in your yard might last as little as five years. (Some experts say that the artificial grass on a football field lasts about eight years.)
While manufacturers design fake grass to resist sunlight and sun damage, heavy furniture can bend or squash the fibers. Sharp objects can slice the blades. Frost can make fake grass brittle, and certain chemicals such as adhesives and oils can leave stains or corrode the lawn.
Popular Fake Grass Projects
Fake grass used to be less common and seen at mini golf facilities and glued onto your Grandmother's front porch. The use and quality of artificial grass has grown immensely since the days of the obvious and fake looking mats of the 1970s. These days however, a lot of people confuse fake grass for the real thing.
Fake Grass Near Pool Area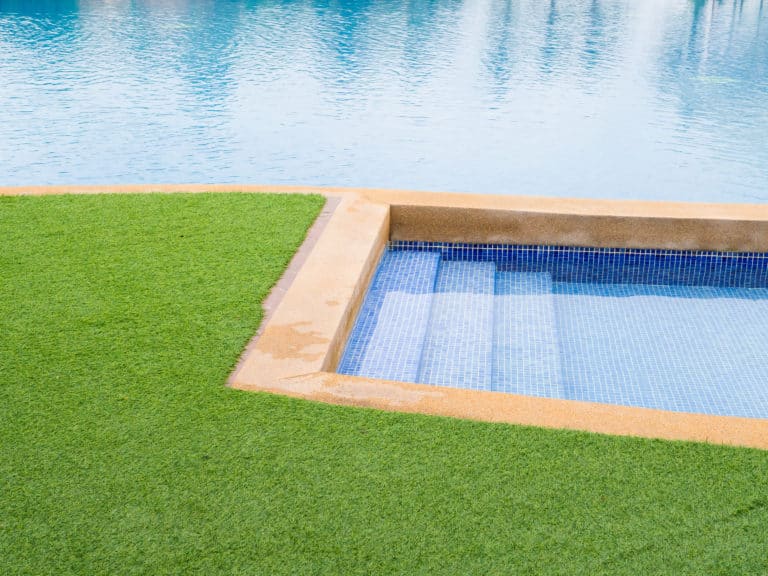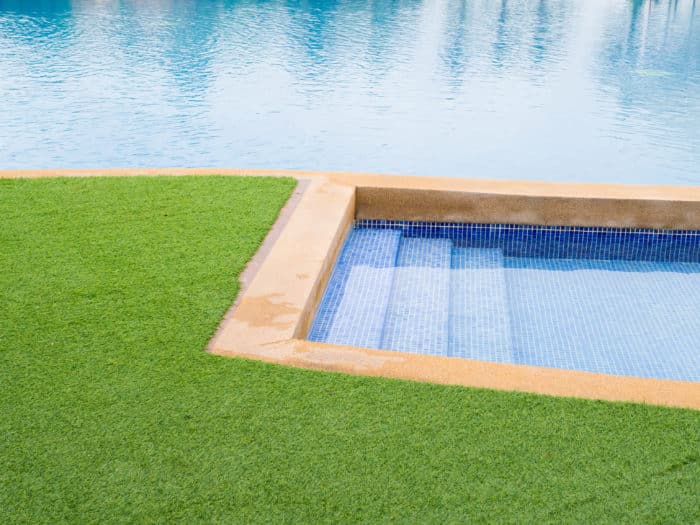 While a natural lawn can be devastated by repeated splashing of chlorine or salt water pool splashes, fake turf can stay green with the abuse. Many swimming pool designs incorporate fake grass right up to the pool deck or around Jacuzzi's and hot tubs. Another benefit of fake grass near a pool is that swimmers feet don't pick up dirt, mud, and grass blades and bring them into the pool.
Perfect for the Small Backyard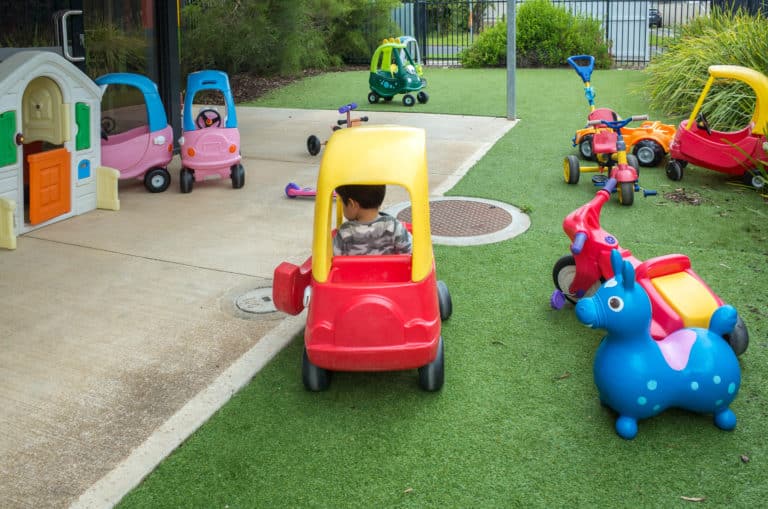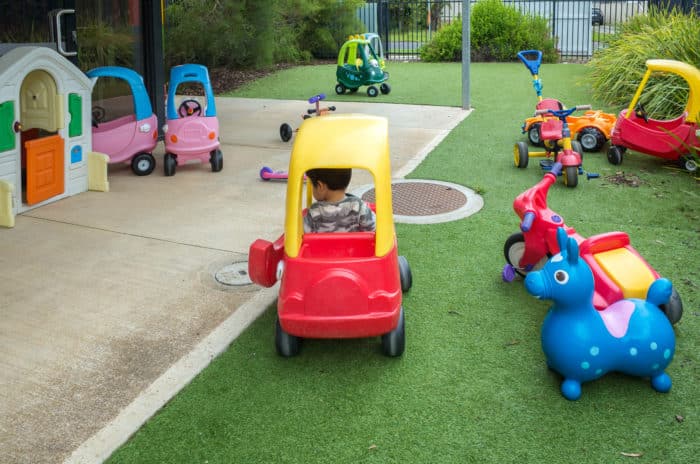 Small backyards with regular grass are frustrating to maintain as many landscaping companies have a minimum charge to come out and perform lawn care. Conversely, purchasing a lawn mower, edger, and other equipment can be expensive compared to the small area of grass. Artificial grass installation often makes a lot of sense financially for small backyards. Some people choose to just cover their entire patio space with fake grass if they have an extremely small backyard.
Fake Turf and Paver Patio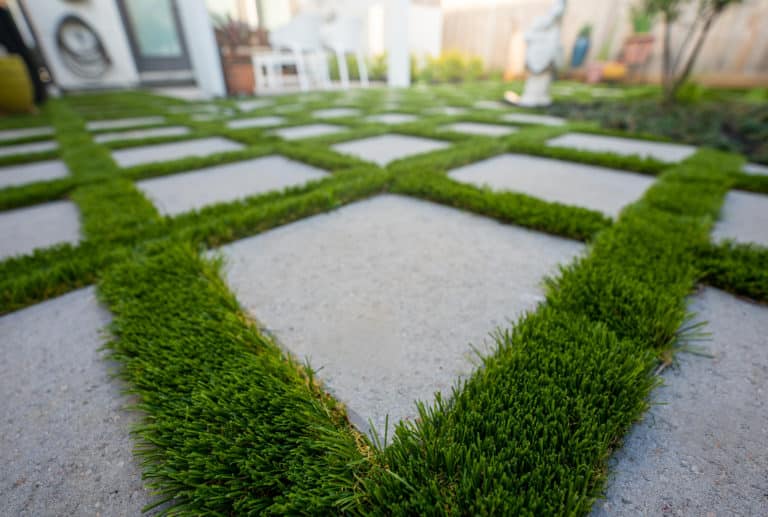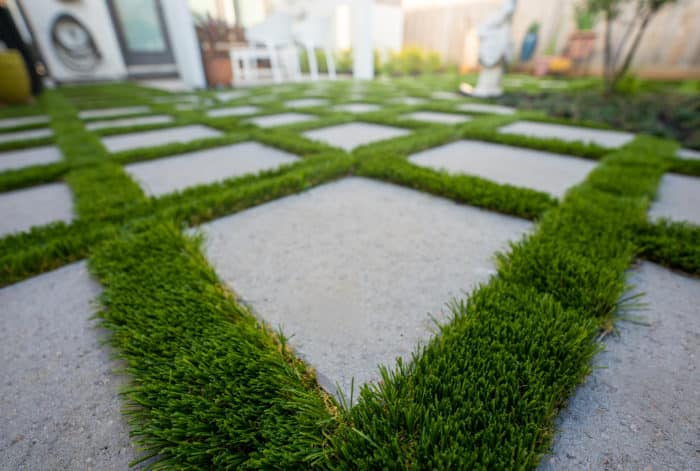 For a nice clean look and outdoor entertaining space, pairing fake turf with pavers is a great idea. Since the turf can be cut to any shape, intricate paver patios can be designed without a concern for small shapes that will be filled in with grass. The turf can be cut to have very neat edges and compliment the edges of the paver stones. Landscape design companies have created many unique backyard patio layouts. For a fresh appearance using a mix of fake grass and live plants can really enhance a backyard space.
Sports Fields and Recreation Areas
Artificial turf fields are common sights now at professional stadiums and even high school football fields. While these large fields won't fit in the average backyard, using fake grass to create a small putting green, croquet course, or badminton area can be accomplished at homeowner properties. Other more creative ideas include large chess or checker boards, hop scotch, and even tic tac toe. These types of options can really enhance any outdoor area.
Fake Grass Water Feature
Due to the installation process, artificial turf can drain water incredibly well. This can be useful next to pools as described above, but also for use next to water features. Fake streams, waterfalls, ponds, and fountains can be intricately designed into the landscape. The artificial grass can run right up to complex edges or around boulders to match most any design. In a challenging area where maintaining natural grass would be impractical, turf can solve many maintenance challenges from a long term perspective.
Many Fake Grass Options for Backyards
In short, fake grass might seem like an easy way to have a beautiful lawn throughout the year, but it's not a set-it-and-forget-it option. Talk with a lawn or landscaping professional in your area to answer your specific questions about whether synthetic or artificial turf would be a good investment for your property.