Foundation Types and Warning Signs of Problems
Home » Structural » Foundation » Foundation Types and Warning Signs of Problems
Last Updated:
May 4, 2021
What determines what type of foundation your home has?
A good foundation is critical to the structural integrity and safety of a home. A foundation that has shifted or is damaged can cause many problems with the house on top of it. Therefore, homeowners and buyers should know what type of foundation they have and the warning signs of foundation problems.
The type of foundation depends on several factors:
Type of soils that your home is built on
How much weight (load) that the foundation will carry
The "Climate" of your area – does it freeze and if so, how deep
If you live in a flood prone area or on a hillside
The Era your home was built in
Common types of foundations

There are three basic types of foundations used in residential construction in the US. However, there are various other types of foundations and there are variations of the three basic types. In different geographic areas contractors and engineers may use different verbiage to describe a foundation type, often confusing to many.
Basement
Slab on Grade / Slab on grade with turned down edge
Raised Foundation
Other types of foundations and terms used
Pile foundations
Pier and beam
Matt or raft foundations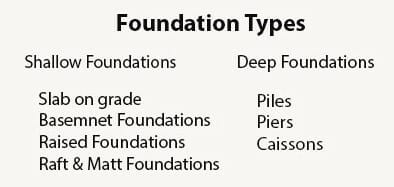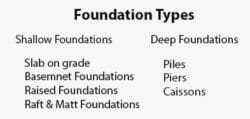 Engineers often refer to two basic types of foundations:
Shallow foundations
Deep foundations
In general, most house foundations are shallow type foundations. Exceptions include,
Coastal, river and flood areas
Some hillside properties and where there's lateral seismic concerns
Areas with extremely poor soil load bearing capacities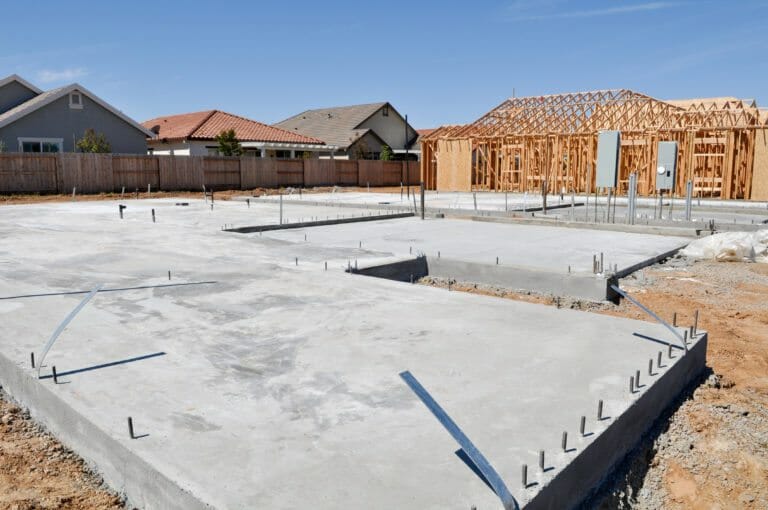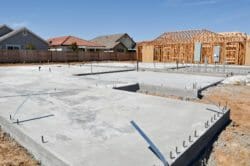 Slab on grade foundation
In the United States, it's the most used type of foundation in new construction: with approximately 55% of all new homes built using this type of foundation.
Contractors often refer to it as "Slab on grade with a turned-down edge."
This type of concrete foundation is usually poured monolithically (poured at one time) over a base of gravel and sand covered by a moisture barrier (i.e visqueen or plastic). The concrete is normally about 4 to 6 inches thick with steel rebar reinforcement, wire mesh or post tension cables. (Read how to tell if you have a post tension slab)
These slabs are the least costly to build but generally are not suitable where there are frost and freezing concerns or periodic flooding.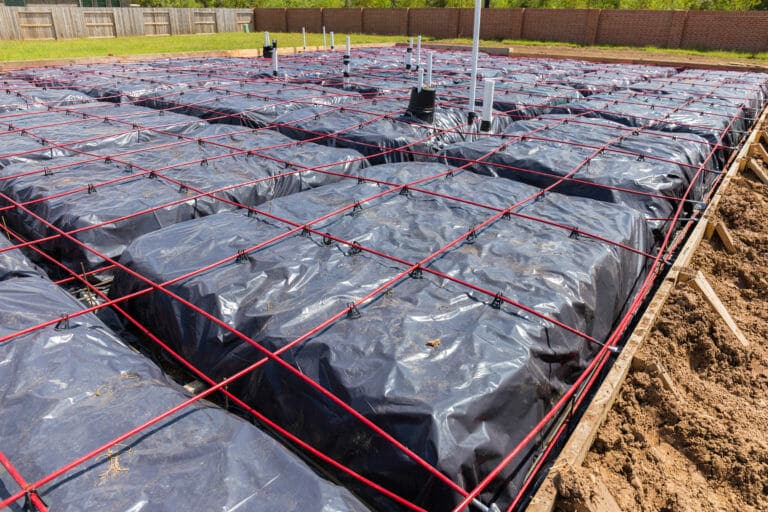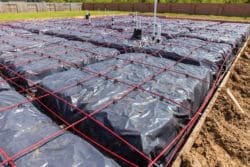 Raft or matt foundations
These type of foundations are similar to a slab on grade foundation but are designed to carry the load of the home (structure) over the entire slab verses just on the foundation perimeter footings. This type of foundation may have concrete ribs or concrete beams on the underside of the slab to add stiffness and strength; some say that it may look a little like the surface of a waffle.
One of the key advantages of this type of foundation besides spreading the load is it helps reduce differential settlement, especially on non-homogeneous soils. (Read about differential settlement)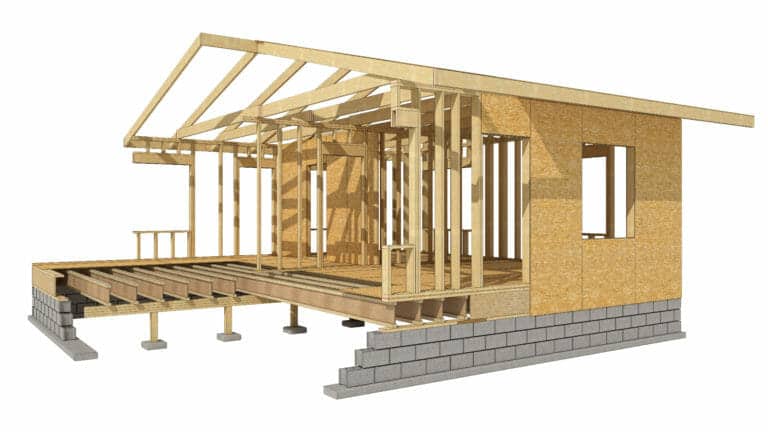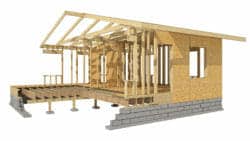 Raised foundations
The term raised foundation often has different meanings for different people but in general it refers to a foundation where the floor level is several feet or more above the surrounding earth.
The area under these types of homes is generally called the "crawl space."
The most common type of raised foundation is where there is a perimeter foundation wall of masonry block or poured in place concrete and interior floor supports of post and beam (pier and beam) that supports the floor of the house. The piers (supports) may be either wood (i.e. 4×4, 6×6 etc or a concrete column or both sitting on a concrete pad)
Other variations include where the perimeter wall is also wood post or masonry columns or where the perimeter wall is solid concrete or block and the interior portion that it surrounds is filled with dirt and a concrete slab is pour on top of the dirt.
Advantages include the ease of adding or repairing under floor plumbing, running electrical wiring or HVAC ducting.
Disadvantages
Floors may sag or creak due to soil movement
Moisture may accumulate or puddle in the crawl space
Poor ventilation often exist
May have radon, mildew, mold, or termites and rotting wood
Bugs and rodents (occasionally cats and other small animals) may enter the crawl space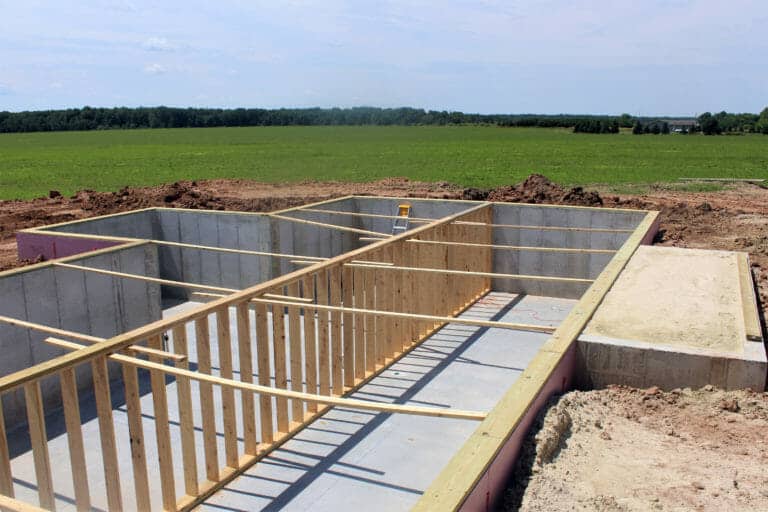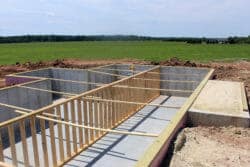 Basement Foundations
Basement foundations generally have poured in place concrete walls or masonry block walls that sit on a concrete footing. Older homes may have may have brick or stone foundation walls.
Approximately 30% of new homes are built with full or partial basements and the majority are in the midwestern and northern states where there are deeper frost lines and colder climates.
Basements provide economically additional living space and are cooler in the summer months. They also provide deeper footings which is beneficial where the frost line is deeper due to freezing temperatures in the winter. In areas that have tornadoes, cyclones and tremendous wind storms, basements will often provide safer shelter than other homes.
Leaks and moisture issues are one of the more predominant problems that basements have. There may be increased indoor humidity, as well as, mold and mildew growth. Properties with high water tables or flooding issues generally are not suitable for basements foundations.
Pier & Pile Foundations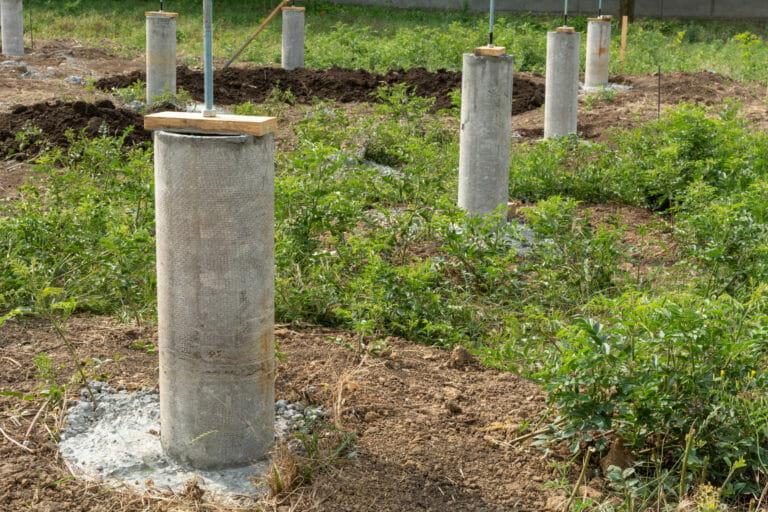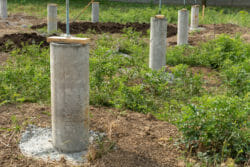 Pier foundations
Piers may be constructed out wood, concrete or masonry block and usually sit on some form of a footing or concrete pad. Typically, they are much shorter than piles and are often confused with pile foundations.
A pier and beam (sometimes called post and beam) foundation is generally a vertical wood post or a vertical concrete or masonry column with a horizonal wood beam (i.e.  4X6 or a 6X8 wood beam or framing member) connected to the top of the pier.
This type of foundation is often found in homes with crawl spaces under them or in coastal areas with low flooding.
Advantages
Elevates the home somewhat to help protect it from limited flooding and moisture.
Easier to access plumbing and electrical lines under the home.
Disadvantages
Floors may sag or creak due to soil movement
May have puddles and moisture under it
Poor ventilation
May have radon, mildew, mold, or termites and rotting wood
Bugs and rodents (occasionally cats and other small animals) may enter the crawl space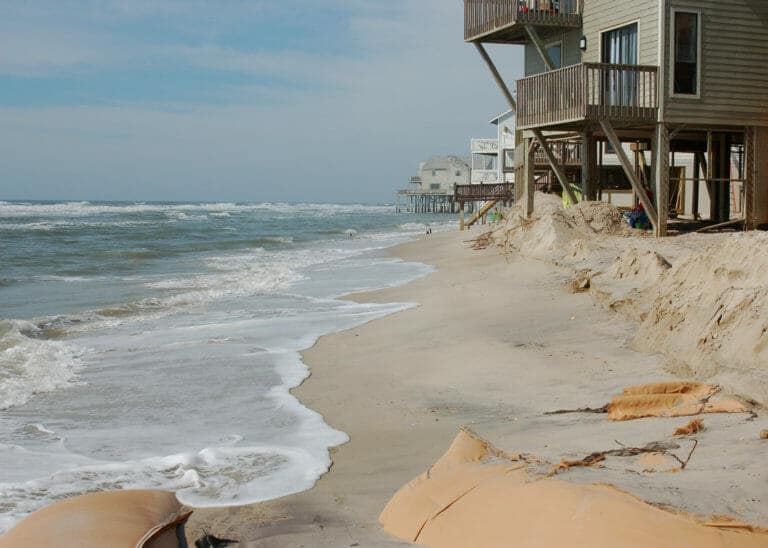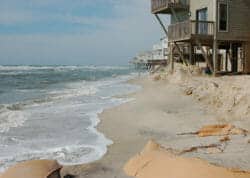 Pile foundations
Piles are generally driven into the ground and are longer than piers. They're usually round or square columns of concrete, steel beams, steel pipes or wood poles and are driven down using very large impact or vibration hammers far enough to carry the weight of the structure sitting on top of them.
They are used in:
Poor soil bearing capacity areas
When there are lateral movement issues in high wind or seismic areas as well as on steep hillsides
When there is high-wind and / or water velocities concerns; including coastal or river areas where there may be erosion, waves, flooding, storm surges and scouring at the base of piles.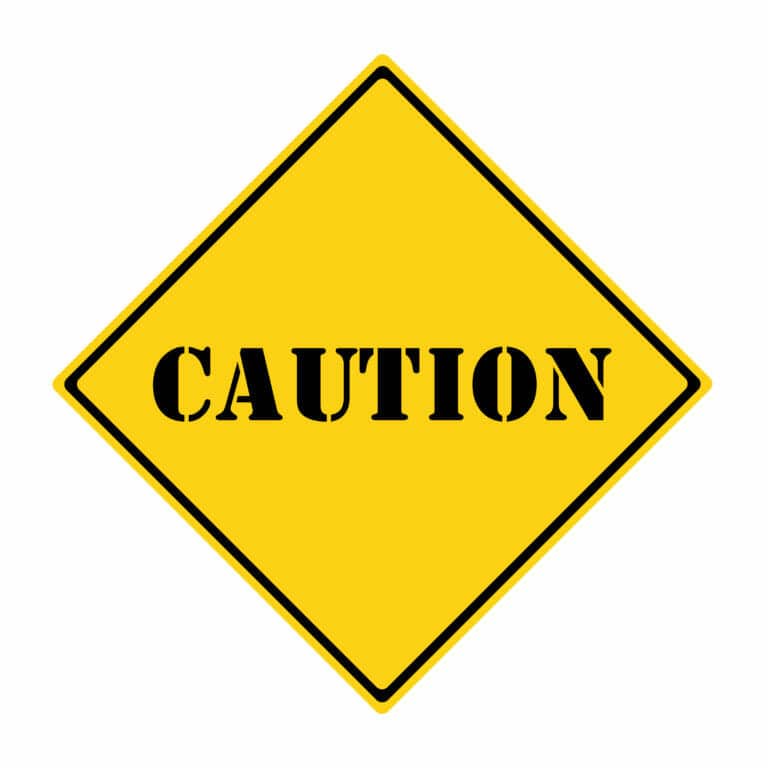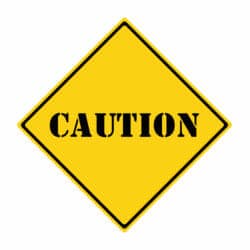 Warning signs of foundation problems
Structural engineers look for specific warning signs that there is a foundation issue or problem. They include:
Cracks in the foundation
Sloping floors
Sagging roof
Doors or windows sticking
Cracks in drywall
Cracks in siding or stucco
House slab cracks
Observing just one of the warning signs above does not necessarily mean that there is a significant foundation problem. In addition to the warning signs, engineers will look at the location of the warning signs, the severity of them and are there a number of different warning signs.
The Bottom Line
There are various types of foundations used in the United States, each designed to support the home that sits on top of it. It must not only carry the weight of the home but stand up the lateral forces of wind, slope creep, erosion and seismic forces; plus withstand climate issues like freeze and thaw cycles.
Buyers and homeowners should be aware of common warning signs that there may be a foundation problem or issue. The quicker that a homeowner recognizes a problem and address it, the less chance that it will become very costly to correct months or years later.
---