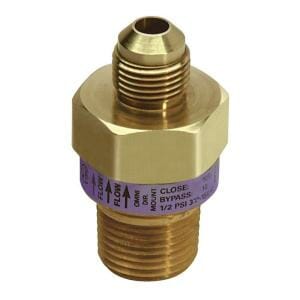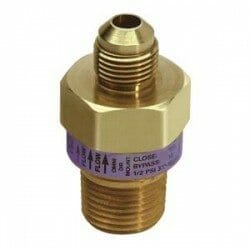 If a gas line to the stove or water heater breaks, or other serious leaks occur?
An excess flow valve automatically shuts off the gas when a significant gas leak or overpressure surge occurs. Generally it will allow a small amount of gas to pass through after it has tripped, which then allows the valve to be automatically reset once the flow has been reduced below the threshold flow level.
How they work
A spring pushes a valve open against the oncoming gas flow.  Sensing a change in pressure, the spring forces the valve closed, minimizing the flow of gas.  EFV's are designed so that when you turn on your gas appliances, the flow isn't enough to push the valve shut, however, if the line is damaged, there is enough flow to push the valve shut.  After the EFV trips, the gas pressure continues pushing on the valve, keeping the valve closed until the correct pressure is restored.  Then the valve automatically resets itself. Generally a small leak will not trip the valve.
They're not a seismic shut off valve
Excess shut off valves should not be confused with seismic shut off valve. They are both safety type gas valves, but serve two different purposes.
---