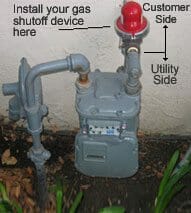 Seismic gas shut off valves are intended to automatically shut off the gas to a home in the event of a major earthquake.
In some cities they are a requirement, others they may only be a recommendation, and in some areas of the country they are not needed. A call to your local building department will provide their requirements for your area.
There are various sizes of valves and some are designed to be installed vertically and some horizontally.