Top 8 Interior Design Trends of 2023
Home » Interior » Top 8 Interior Design Trends of 2023
Last Updated:
January 1, 2023
The past few years have changed the way many use their home. It now accommodates work-life as well as family life, productivity as well as relaxation. You have found yourself working at home, cooking in your own kitchen, studying remote classes, relaxing in your backyard, and exercising in your basement. These changes can throw your living situation off kilter, and that's why the interior design trends of 2023 are all about rebalancing.
This year's home design trends encourage you to take stock of how you use your home and what you enjoy. We're getting rid of clutter and the things that don't make our lives better. But we aren't going back to minimalism, either. The trends for 2023 seek balance to create a space that's not too much, not too little, and just right for you.
1. Sustainable and Upcycled Materials
Sustainability and environmental friendliness are at the top of everyone's minds right now. According to the Interior Design Trends Survey by 1stDibs, nearly 97% of designers corroborate that sustainable materials will dominate the interior design trends of 2023.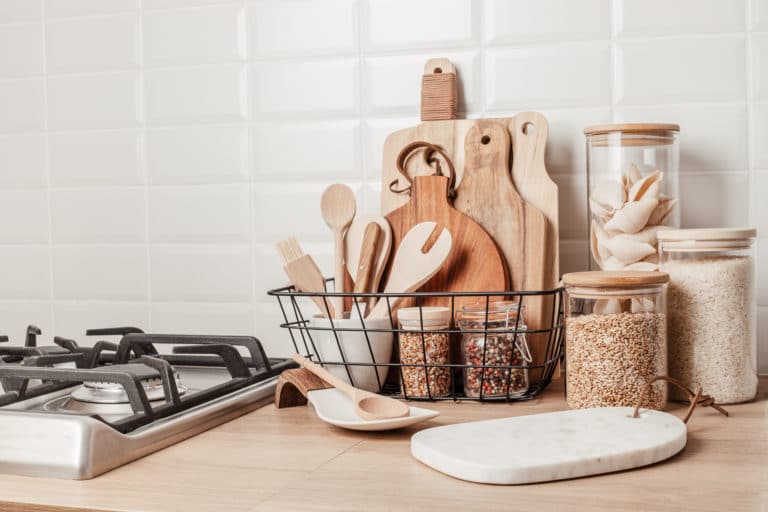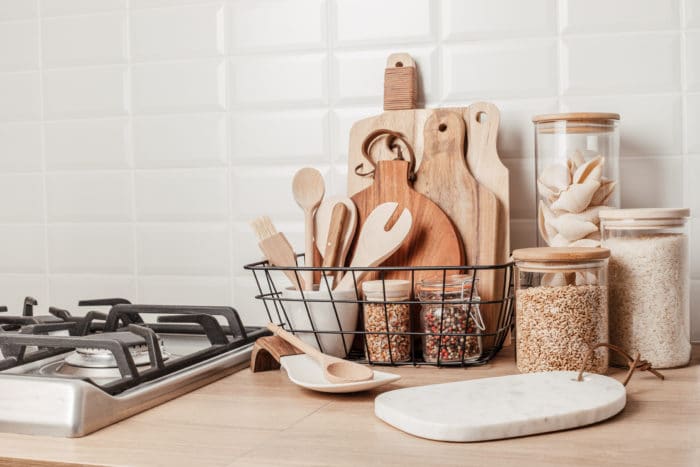 Sustainable materials are a long term, quality-of-life investment. Not only are green building materials more environmentally friendly, but they also tend to be more durable. This means less replacement, less waste, and less cost over time.
Efficient sourcing is at the heart of sustainability. Consider where your materials come from. Look for conscious design and manufacturing, upcycling, natural resource replacement programs, and local artisans.
Sustainable materials are often:
Recycled, such as recycled metals
Natural, from plentiful or renewable resources, such as bamboo fabrics and mushroom leather
Salvaged and repurposed, such as reclaimed wood
Upcycled, such as curtains made of PET bottles, rugs and throw pillows from waste fabrics, and kitchen cabinets from old floorboards
Manufactured with renewable energy
Locally available
2. Vintage and Reclaimed Furniture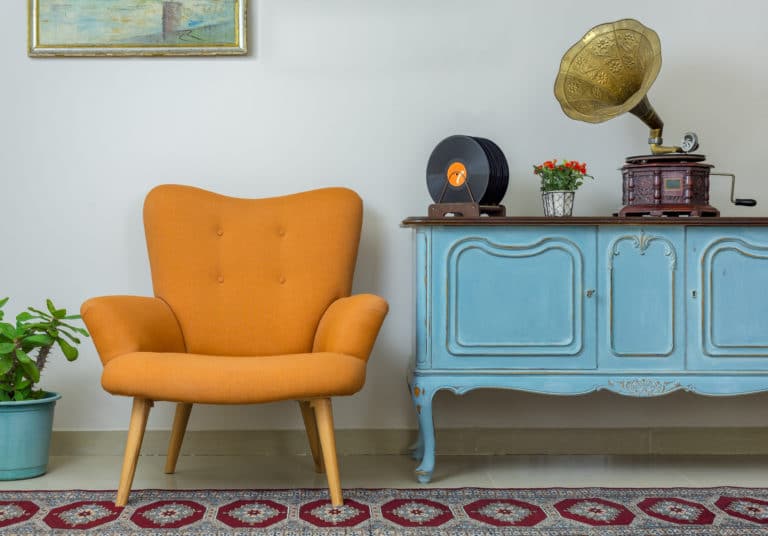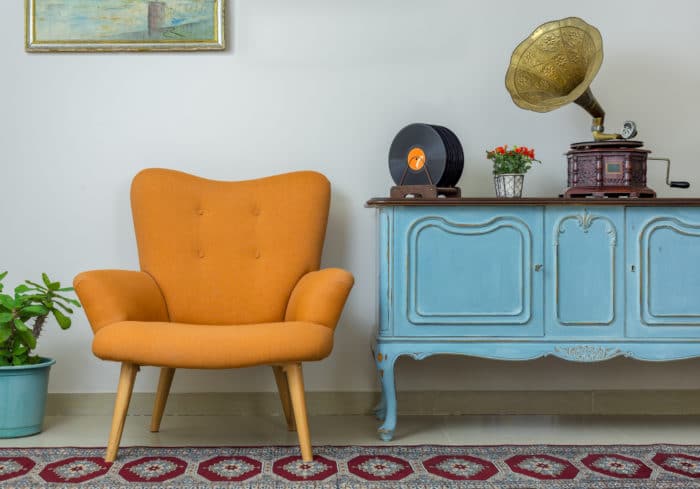 2023 interior design trends are giving us the chance to personalize our homes. Not all personalization is photo frames and monographs, however. Much of what we like comes across in the furniture itself. There's a lot to be said about finding a decor that both embraces your sense of style and makes you feel most relaxed.
Many are turning to vintage and antiques for this. Statista projected that the furniture resale market would increase 70 percent from 2018 to 2025, while a Chairish report found a 31 percent increase among Millennial and Generation Z consumers who intend to buy used, vintage, and antique furniture due to the pandemic.
It's not just thrifty, it's cool. Vintage pieces have a mystique that allows them to stand out. Each one is unique. Their wear and tear add history and character. They're artistic and functional, which is its own kind of luxury. And, don't forget that you can also add your own touch by reupholstering an old armchair or painting a scratched table.
Many consumers are moving away from the big retailers, preferring to upcycle and thrift their furniture, at least partially because it's less expensive. Vintage and consignment furniture can relieve your budget. It's also more environmentally friendly as a form of recycling that reduces waste.
According to Etsy trends, searches for vintage lighting have increased by 25 percent. Shopping for used furniture is great for finding that statement lamp that will light up your plant-filled sunroom, or that perfect cabinet to add storage into a flexible living space.
You're also more likely to find pieces with regional flavor this way. Shopping locally supports businesses in your area and helps your community thrive. As a bonus, local consignment pieces are readily available, meaning less chance of delay from the current supply chain shortages.
3. Natural Materials
2023 interior design trends invite environmentally friendly decor, and holistic wellbeing into your home. Natural materials are a way to add sustainable beauty to your furniture and surfaces. Natural materials are also healthier in the long run. They eliminate the irritants of plastic allergies. They also improve the air quality by limiting the release of carcinogens into the air. Organic and natural materials, such as travertine, terracotta, marble, plaster, cork, bronze, and leather are less toxic and contain fewer VOCs than plastic synthetics. An added and often unknown benefit of having more natural materials in your home is that they are less flammable and produce less toxic smoke, as opposed to petroleum-based materials such as plastics and synthetics which contribute to how fast a home burns in a home fire. 


Natural materials aren't merely healthier and more environmentally friendly, however. On the aesthetic side they carry character and history:
Beautiful and exotic reclaimed woods create their own statement wherever you see them.
Metals and metallic accents help to reflect light, brightening interior spaces.
Stone, such as marble, is durable and hardy while also adding a rich texture. Stone can also be reclaimed and reused.
Glass offers a casual elegance and brightness without being brittle. It helps the room appear larger by letting light shine through the entire space.
Clay and plaster are prime opportunities to add texture to a dull or flat space.
Leather is both earthy and refined at the same time. While this might be one of the less sustainable materials to trend this year, there are also high quality leather alternatives, such as natural and renewable mushroom leather.
4. Closed Concept Floor Plans with Multipurpose Rooms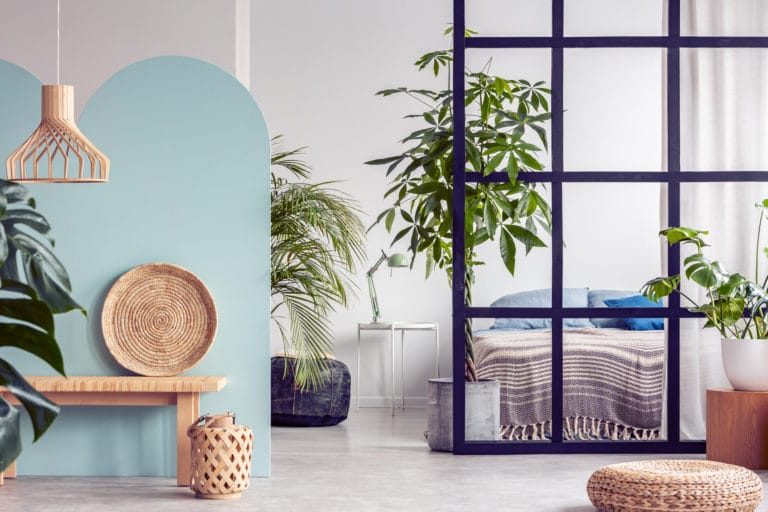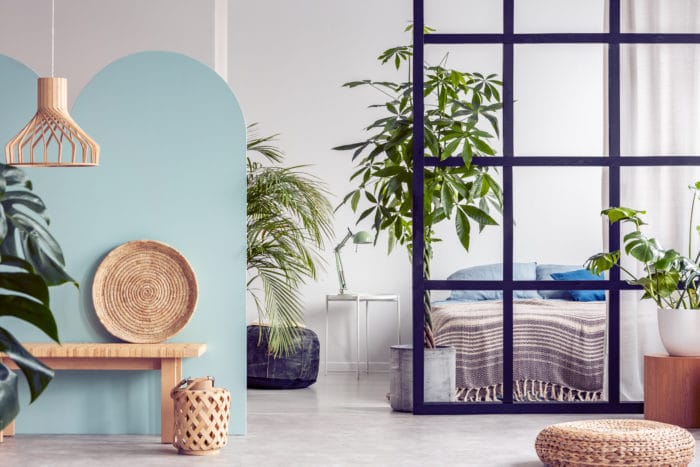 Thanks to the pandemic, we're seeing the rise of versatile rooms. More families are homeschooling or requiring space for virtual learning, while adults are working from home. You might already find yourself transforming your daytime workstation into an evening living space. Home exercise rooms are gaining popularity. Many are building home bars to relax in after the workday, as well as cozy patio spaces for some peace of mind.
Closed concept floor plans are on the rise, as separate rooms allow for more versatile spaces. Additionally, having more rooms makes it easier to accommodate multi-generational living. Some homeowners with open floor plans are creating divided or multipurpose rooms. The more time everyone spends at home, the more important privacy has become. The interior design trends for 2023 show an uptick in separate nooks and niches where individuals can retreat. If you're looking at your space and wondering how to make it more versatile, don't forget to look up. Many homes have unused vertical opportunities for shelving, lofts, ladders, and dividers that can create separate spaces.
5. Indoor-Outdoor Living
There's a reason fresh air is good for us. Being around plants can improve concentration and air quality while offering a restful presence to reduce stress. Outdoor spaces are more open, and they feel larger, which can help us to relax after a long enclosed day of work.


As we spend more time at home, there's a growing trend to merge our indoor and outdoor spaces. Otherwise known as 'transteriors,' Pinterest shows a spike in searches for Biophilic bedroom ideas, biophilic office design, and biophilic architecture.
Biophilic design invites us to appreciate all that lives and grows. Within our homes, this includes our family and ourselves. Our connection with our home spaces does not have to be purely utilitarian and technological. There are numerous well-being benefits that we can gain from bringing nature inside, including a steadier heart rate and decreased blood pressure. In other words, nature helps us to stay in balance.
To try biophilic design in your home:
Soften the sharper edges of your decor with more curves.
Add plants where you need life and texture.
Take advantage of natural light by repositioning curtains and anything else that may block your windows.
Use sliding doors to keep an opening between inside and outside, or better yet, 48 percent of experts feel that using glass walls that fold or slide is the best way to create an immersive transterior.
Consider a fountain for the calming sound of running water.
Choose furniture choices made of natural or reclaimed materials.
With all this talk of adding sunrooms and living art walls to the home itself, though, try not to forget the outside. Outdoor living spaces are trending in 2023, and many homeowners are finding ways to make use of their entire yard. Enclosed patios are becoming popular, as is outdoor dining on the deck, cooking, and grilling.
6. Nature Inspired Hues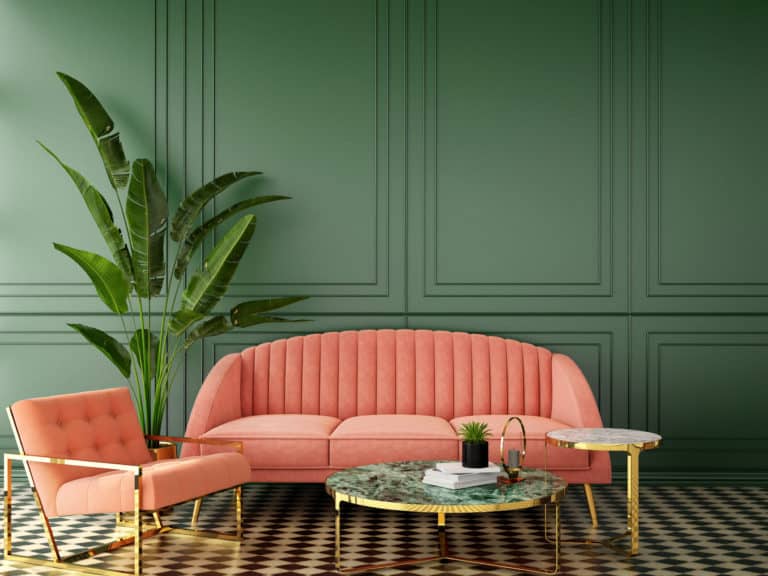 Natural colors are taking over our interiors as the new neutrals. They're restful to the eyes while maintaining interest and character. Muted earth tones and rich forest browns can provide a backdrop for plants and furniture. Paint colors in sky blues, teals, beiges, and off-whites set a peaceful tone.
Green is the new neutral champion. It's a flexible middle-ground between a warm and a cool tone. Furthermore, there are many tones of green, from the dusty warmth of olive or sage to the more vibrant forest greens and emeralds. In fact, Emerald green is Etsy's color of the year, since it pairs well with neutrals, earth tones, and metallics.
7. Textures with Bold Prints & Patterns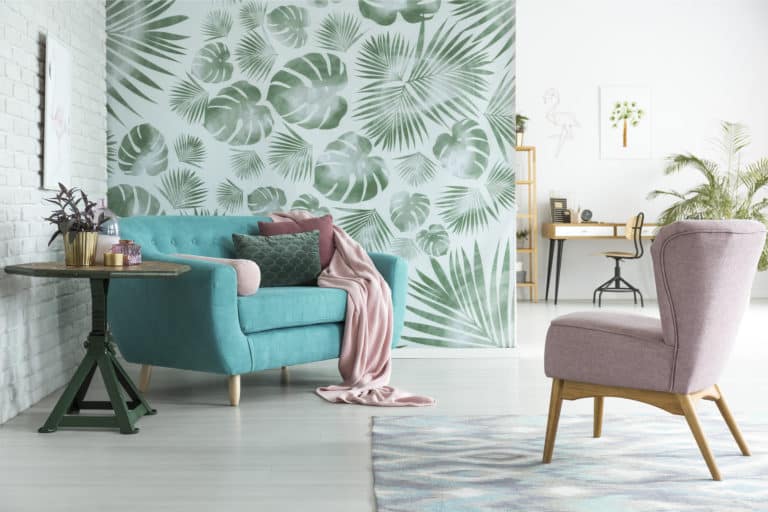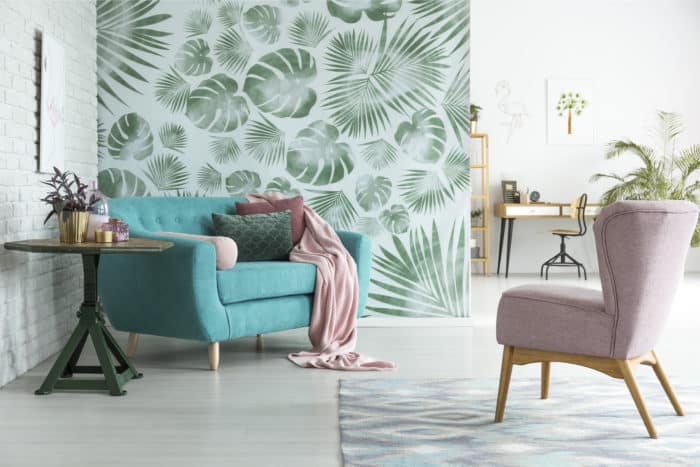 2023 interior design trends are here to remind us that there's nothing in nature without texture. Bold textures are fascinating and inviting. Chances are, they're already all over your home, in the natural grain of wood, plaster, bronze, and leather.
When it comes to decorating, consider fabrics, such as velvets, to soften the harder edges of your furniture. Play with colors, and try mixing bold prints with more muted neutrals.
Don't forget that objects add texture too. Handmade and craft furnishings, such as woven chairs, are becoming preferred to the more mass-produced decorations. Bright tableware and decor can show off your personal sense of style. Don't hide away the handmade ceramic vases or beautiful wood-worked centerpieces. Liven up a room by mixing and matching your colors and fabrics.
Here are some interesting textures to add to your home:
Tactile Textures – wood, plaster, bronze, and leather
Rough Textures – raked plaster, grainy stuccos, rough clay
Natural Elements – metallic accents, stone, beautiful woods, and plants
Earthy Finishes – plaster, clay, lime washes
8. Organic and Round Shapes
Over the past few years, we've seen a growing trend of decluttering to make the home space both beautifully relaxing and optimally functional. However, minimalism has also encouraged hard corners and flat textures. 2023 is using the same principles of decluttered balance, but it's adding the comforting nature of round shapes and curved edges back into the mix. Rounded edges make a room feel dynamic and comfortable.
Curved and wavy shapes have made their way back into the top home decor trends. This includes everything from wavy wood furniture, to curved kitchen islands and bar tops. Other embellishments, such as ruffles and pleats are also having a resurgence. Consider sofas with rounded edges, curved-back couches and reading chairs, and round-cornered table accents. Add a round area rug to the entrance for an inviting tone.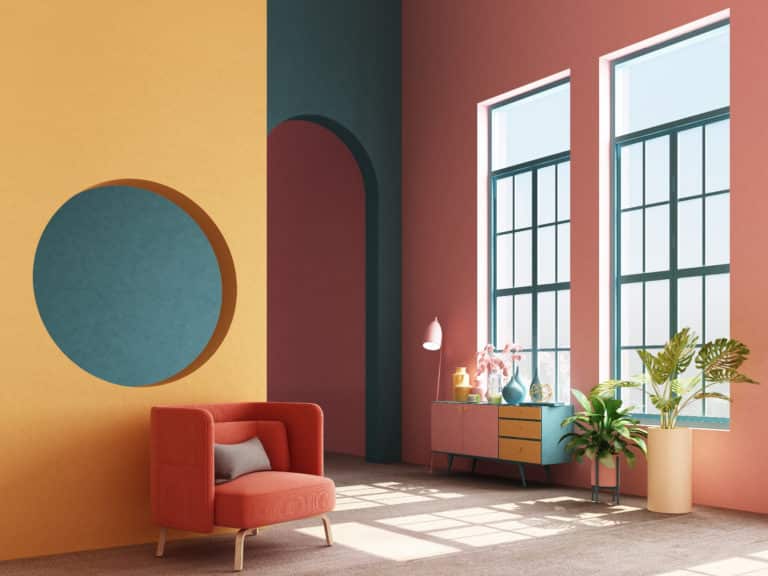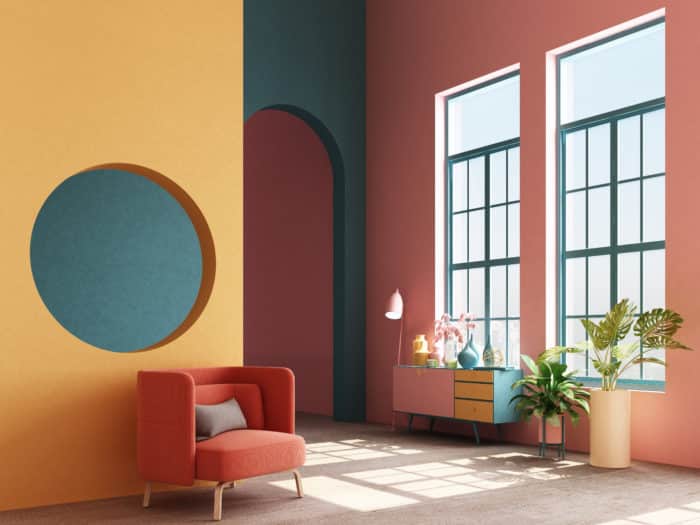 For those interested in remodeling, you can add some curves to your layout with doorway and window arches. Curved walls are another growing trend, as are curved showers to boost your bath time relaxation. These rounded shapes can tie together a cozy living space, allowing it to feel more safe and more inclusive.
After the past year, many have changed their houses to accommodate a new lifestyle of more time spent at home. Now, it's time to take all that work and add more of your personal style mixed with a sense of decorative balance, sustainable materials, bold textures, and natural elements. Here's to a great year!