Composition Shingle Missing or Damaged: Check the "underlayment, Installation and the Roofs' Sheeting
Home » Exterior » Roof » Tile, wood & composition shingles » Composition Shingle Missing or Damaged: Check the "underlayment, Installation and the Roofs' Sheeting
Last Updated:
May 4, 2021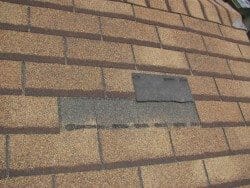 Missing shingles, weather damaged shingles, improper installations and granular loose and exposed nails can be found on many roofs. These issues are generally easy and economical to repair.
Storms and other weather elements cause a roof to need maintenance and eventually replacement. Overall, composition shingle roofs can last many years and usually only need limited maintenance. One of the good things about maintaining and repairing a composition shingle roof is that it is easier and less expensive to repair than many other types of roofs. Homeowners themselves can often do the repairs for their composition shingle roof.
Missing or damaged shingles
Home improvement centers usually carry packs of composition shingles that can be used for repairs. At times simply nailing down the existing shingles that have become loose or torn will help.
Granule loss
Just as gray hairs or loss of hair comes with age, granule loss occurs as a roof ages. This is a normal occurrence.
Improper installation
If the shingles are installed improperly, then the likelihood of a leak is much higher. Roofers can generally make corrections quickly and rather easily, and if the roof is not leaking, many will just leave it as is. As the old saying goes, don't fix it, if it's not broken.
Shingles not flat
Occasionally the felt under the shingles was not installed properly or the shingles were installed to tightly on a cold day, then expanded on a hot day. This may cause the shingles to buckle or ripple a little.
If there is another roof already installed under the existing one, then a ripple or buckle look may occur; or if moisture got under the shingles in the winter. Consulting a roofer will generally provide the reasons why a roof isn't flat, and he may advise to just leave it the way it is or to do repair or other work. Once in a while the ventilation in the attic may need to be improved.
Tune-up vs. replacement
Roofers do what is often called a roof "tune-up." Just as you tune-up a car to keep it running smoothly, you do a roof "tune-up" to keep it performing properly. Most roofs just need tune-ups, not replacement. Occasionally, if the roof is very old or in extremely bad shape, then replacement may be the best choice.
Who to consult? Roofers and qualified handymen.
Home owners and handymen often do limited maintenance and repairs on composition shingle roofs, for it is one of the easiest of types of roofs to work on. Roofers do the same as well as "Tune-ups."