Rusted and Corroded Electrical Panels – Check The Inside of These Panels
Home » Electrical » Electrical Panels » Rusted and Corroded Electrical Panels – Check The Inside of These Panels
Last Updated:
May 4, 2021
Damp air, especially ocean air, panels that are not sealed well, that are not rated for there location and age leads to rusted and corroded panels. Generally limited maintenance is sufficient to care for rusted panels. Removing the rust, priming and then painting stops the issue. Use paints that are specifically designed for metal.
Corrosion or rust on the breakers, lugs and other components or connections in the panel itself is more serious than a little rust on the exterior of the panel.
Caution
When painting, do not get paint onto the breakers, wiring, grounding or bus bars. This may create over-heating issues, connection issues, as well as other safety issues. Also, do not work near live current.
Badly rusted and deteriorated panels
Should a panel be so heavily rusted that the metal is eaten through or so badly rusted that it can't be re-painted; then give consideration to replacing the panel or the badly deteriorate parts.
Rusted panels may have hazardous conditions on the inside of the panel. Therefore if a panel is rusted, it is wise to investigate the condition of the interior of the panel. The rust may be a yellow flag or red flag to further investigate.
Rust and corrosion on the interior of the panel
When there is rust or corrosion on the breakers, busbars, lugs or wiring, then it is important to have a qualified electrician to review the panel.
Corroded breakers
may not come out without excessive force
may be slow to trip
may fail to trip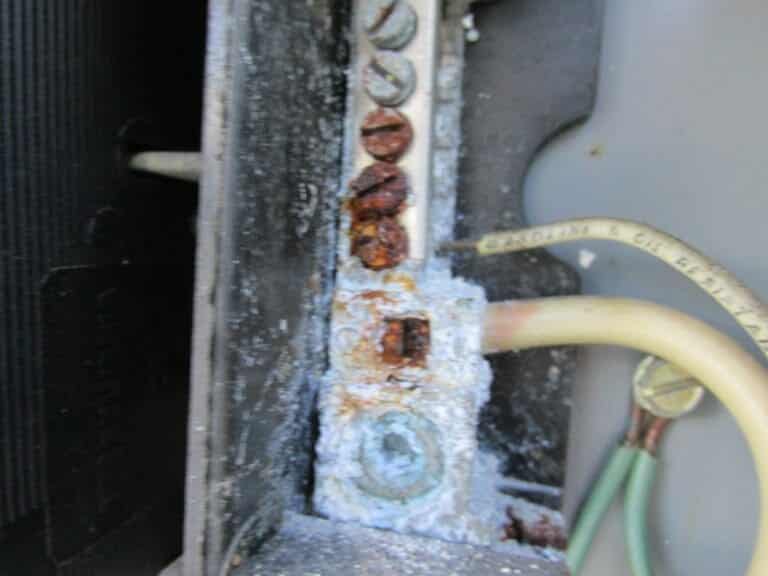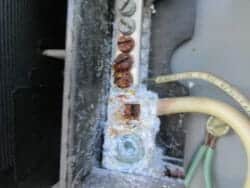 Corrosion on busbars, lugs and connections
Corrosion on busbars, lugs, electrical connections and wiring may result in failure of the component operating properly, may result in excessive heat which can cause a fire under some circumstances. Corrosion may lead to some home appliances being damaged or not operating properly.
Who to consult? Electricians and handymen.
The majority of rusted panels just need a little maintenance and paint. In general much of this can be done by the home owner. Electricians and qualified handymen can also do this work. Badly rusted and damaged panels should have an electrician do the maintenance or replacement of the panel.
---