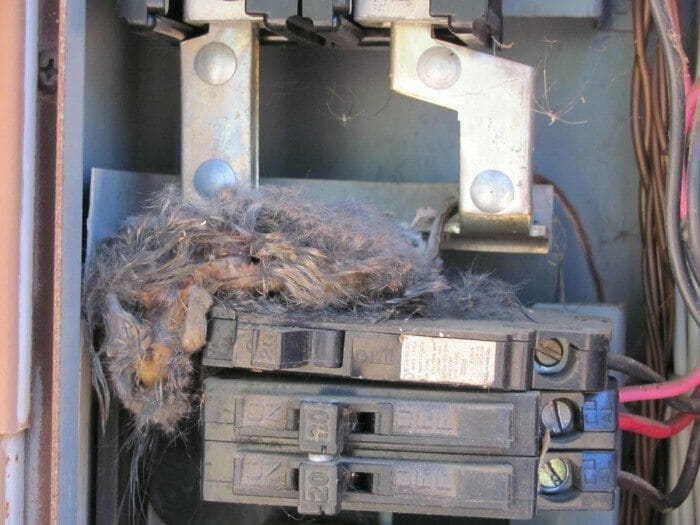 Rodents in electrical panel should be removed. This can be easily done, but is necessary for safety reason.
Seal any opening
It is wise to seal any opening that a rodent can squeeze through to get into the panel. Usually a rectangle type piece is used if there is an opening in the front cover part of the panel. If the access for the rodent was through a knock-out, then a round knock-out snap in plug will normally cure this.
Caution should be used when snapping a steel plug into the hole. To do this often requires working close to live wiring and bus-bars, which can be very risky.
Terminology – round snap in plugs are generally called steel hole plugs by electricians and rectangle filler pieces are called electrical panel cover filler plates or breaker filler plates.
Check for damaged wiring
Rodents will gnaw on electrical wiring. They will chew on the insulation portion of the wire. Once the insulation is damaged, then arching, shorts or even fires may start.
If rodents are discovered in an electrical panel, then all the wiring should be checked. Preferably by a qualified electrician.
Who to consult? Electrician or qualified handyman.
An electrician or qualified handyman can generally seal the openings easily, once they remove the rodent.
---