Cracked or Chipped Breakers Can Be A Safety Issue
Home » Electrical » Breakers » Cracked or Chipped Breakers Can Be A Safety Issue
Last Updated:
May 4, 2021
Breakers, in the main (or sub) electrical panel, may have a small crack or chip. Even with these small cracks or chips the breaker may continue to function as it should. However, it is wise to replace the cracked or damaged breaker for safety reasons.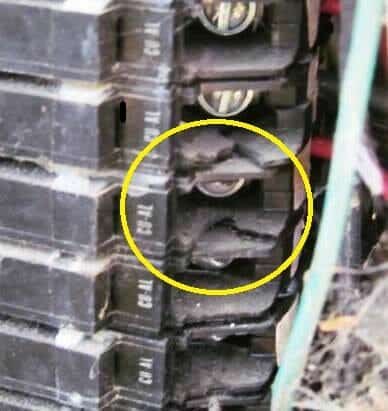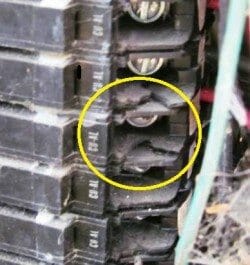 What causes a breaker to crack ?
When the breaker was placed into the panel, it may have been forced into position by an electrician tapping on it too hard. Thus, the crack.   Breakers also get cracked or chipped when an electrician is placing the electrical wire into the breaker slot and starts to screw the setscrew onto the wire, the screwdriver slips and the breakers' thin edge chips or cracks.
Heat may also cause or contribute to a breaker cracking
When current is running through a breaker, some heat is generated. Excessive current (or load) may cause the breaker to overheat and crack. Over time, the breaker may incur daily periods when there is current flowing through the breaker and other periods where there is no current running through the breaker. This results in portions of the breaker expanding and contracting do to the heat. Should this process occur over and over again, then over the years the breakers' molded plastic housing cracks.
Breakers are inexpensive and any cracked, damaged or chipped breaker should be replaced. This is true, even if electrical current is going through the breakers.
Who to consult? An electrician.
Electricians can easily replace a damaged or chipped breaker in just a few minutes.