What is a Smart Home?
Home » Smart Homes » What is a Smart Home?
Last Updated:
May 4, 2021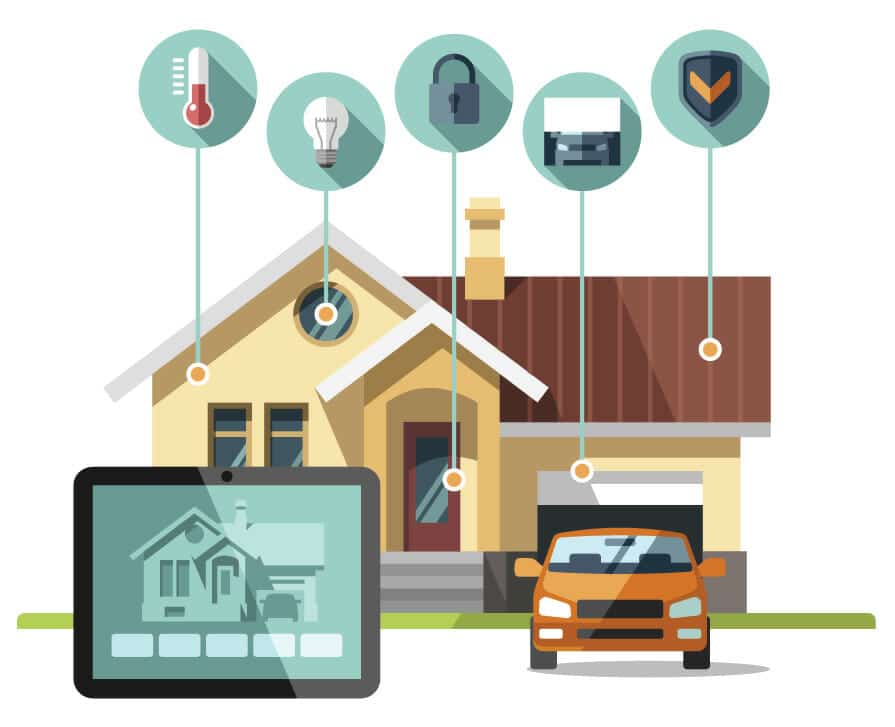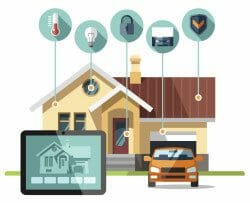 What makes a home smart?
Keeping up with the rapid advancements in technology can sometimes be difficult. When it comes to smart home technology though we have the answers. The simple definition of a smart home is a house equipped with integrated technology that is designed to be more efficient, more secure, and more reliable. In recent years the technology for homes has advanced so much that there are now unique solutions for just about everything that can exist in a home or property. From light bulbs that double as speakers and WiFi range extenders, to programmable chicken coop door openers, living in the age of the smart home is an exciting time. We are going to cover some of the main groups of smart home related products and the pros and cons of different devices that fall into the main categories.
Smart Home Technology Categories
Home Security, Safety & Monitoring
Lighting and Audio Visual
Heating, Ventilation and Air Conditioning (HVAC)
Automation Hubs & Comfort/Convenience Devices
Home Security, Safety & Monitoring
Gone are the days of wondering what your dog or cat have been up to all day. With the combination of discreet web cam systems and smart phone apps, its easier than ever to check in on your family room or backyard and see whats going on in real time. Thought you heard something at the back door while you are in bed? Simply grab your phone and look at the live feed camera to see if there is an intruder or just a curious raccoon.
Parents are especially apt to liking the home monitoring capabilities of today's smart home products for many reasons. The ability to monitor the baby sitter or even a plumber fixing a leak while you are work can provide a lot of insight about the people you are trusting in your home. Checking in on your kids and making sure the babysitter or nanny is being responsible is one of the many reasons that parents are purchasing smart home monitoring systems.
Its now less intrusive and disruptive to install a comprehensive security system thanks to home networks. In the past every single door and window alarm, keypad and intercom had to be independently wired back to a central security control panel. The combination of WiFi with these small sensors enables instant feedback without having to pull more wire in the walls. You can now also disarm your home security system simply by tapping a few buttons on your mobile phone. Since the cost of WiFi enabled sensors is so low, you can literally secure every possible break in point in your home for a lower cost than the older systems.
Safety in the home is not always related to unwanted visitors and intruders. Fire, carbon monoxide and even plumbing leaks can now instantly alert you and your family if there is a problem. Smart ovens, stoves, and refrigerators will even send you an alert if the refrigerator door was left open, or the oven has been left on. By leveraging the different aspects of smart home security and monitoring you are able to make your home much safer for your entire family even when you are away.
Lighting and Audio Visual
If you have ever found yourself waiting in your car because you wanted to hear the last minute of that song, the smart home has you covered. With phone integration via Bluetooth or WiFi your music can literally follow you wherever you go. Speakers throughout your home will play the music on your phone and transfer the music from room to room while you are walking. Lights will automatically turn on and off as well, some even learning your movements to better predict when you will need the lights on or off. Not only can this reduce energy usage but it can also integrate with security systems so that you can always keep criminals guessing whether you are home or not!
Heating, Ventilation and Air Conditioning (HVAC)
Most people have heard of Nest the original mainstream smart thermostat acquired by Google. The nest revolutionized the hard to use programmable thermostat industry by creating a stylish and easy to use self-learning thermostat. By simply using nest like a traditional thermostat and turning down the temperature on you way to bed – nest will begin to keep track of your routine and automatically start adjusting the temperature for you. If you aren't home all day nest will lower the temperature and allow itself enough time to heat or cool the home back to your preferred temperature before you even arrive home.  It is so smart in fact that it only takes about one week to learn your schedule and program itself. You can use the app to easily adjust the temperature from your smart phone for fringe cases or special occasions!
Nest spawned an entire thermostat revolution and now there are many more choices and competition in the industry. Your thermostat can connect to security cameras, carbon monoxide and fire alarms and more. Some of the other notable players in this industry are Enhabit, EcoBee, many Honeywell products, Sense, Vine and more.
Automation Hubs & Comfort/Convenience Devices
Amazon and Google are in a race to be the controlling hub of your home. With the Echo & Echo Dot (a more affordable version) and Google home releasing new advances every day just about every aspect of your home is fair game to be automated. Cooking, closing the blinds, checking on the kids and cleaning the floors can now be controlled by the smart home. There are many individual automated products that make up the smart home of today but not all are able to connect seamlessly yet.
Samsung has introduced the SmartThings Hub which aims to solve the problem of device integration and offer an all in one library of devices that integrate to their hub.  They already have a comprehensive solution of outlets, voice control, sensors, cameras, doorbells and door locks, thermostats, speakers, garage door openers and even water valves. So if you in a smart home make sure to look around and see what kind of devices are present. There could be automatic blind openers and dog feeders that blend right into the homes décor.