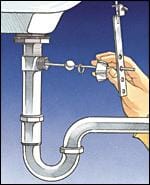 Sink pop-ups commonly get stuck, damaged or get lost some how. When it gets stuck or difficult to operate, the connection under the sink is usually the culpert.
Most common causes:
The connection under the sink is loose, bent or merely needs adjusting.
Someone pulled the pop-up out of the sink to clean it or unclogged the sink and failed to put it back in or didn't put it back in properly.
Wore out over time from repeated use and needs to be replaced.
Correcting this is usually very easy and quick to do. Home owners, handy men and plumbers generally can correct this easily.
Who to consult? Plumber or handyman.
Home owners may adjust or replace their own sink pop-ups. Handymen and plumbers likewise do this type of work.
---